I saw this idea in several different place around the web and decided to try it for myself. I fell in love with the idea as it is a nice, inexpensive gift that is very easy to customize to the recipient. I did this one for my mom.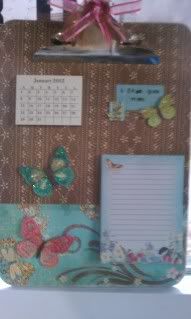 I used K&Co papers from the Best of paper pack and the calendar and notepad came from dollar general. They have all kinds of these for a dollar. I just ripped them from the cardboard backing they came on and used them like this. I neat little gift for under 5 bucks.
Oh, and Mom loved it.